An editorial calendar is an inbound marketer's best friend. Essentially, it's a content calendar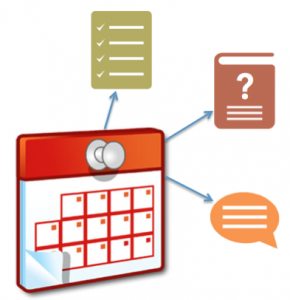 that tells you what and when to publish. It's a very effective tool that lets you create relevant content and distribute it to the right readers at the right time. And if you're good at sticking to your editorial calendar, you can even grow your conversion rates, keeping your business running smoothly and realizing anticipated growth.
Why Create an Editorial Calendar?
For one, it relieves you from the stress of wondering what to write next. It's no secret that many publishers of heavy-traffic blogs and websites don't seem to run out of ideas. Where do their ideas come from? And why do they get to publish them on time? Ideas are everywhere. You pick some of the best, polish them and turn them into titles. Then you choose when to publish them by including them in your content calendar. That's how the pros do it.
Publishing based on users' expectations is another reason to use an editorial calendar for your content strategy. While your not likely to forget Christmas or Thanksgiving, Dental Hygenist Week or Take Your Pet to Work Day may creep up on you. Having an editorial calendar will let you plan in advance and publish based on what visitors will likely expect from your website. They'll definitely need a great blog post or a compelling infographic that reflects the season. They'll appreciate your timely content and may even share it with others. This alone will help you attract inbound links and turn more visitors into customers.
How to Plan an Editorial Calendar That Works
Because your business is different from the rest, you need to tailor your content calendar to the size of your organization, business goals and target audience. Here's a quick view of the process.
1. Create an exhaustive list of events and make sure to include a date. Follow the link at the bottom of the blog post to download my Promotional Calendar Thought Starter. Don't forget annual seminars and workshops, bi-monthly sales, company anniversary, etc.
2. Pay attention to at least three biggest events in the whole year. Make sure to pick those that are most relevant or appropriate to your business. If you own a flower shop, for instance, Valentine's Day and Mother's Day are definitely two of your busiest days in a year. Highlight them in your calendar.
3. Plan a content marketing campaign for major events. Decide what content to produce for every channel. Besides creating content for your blog, you may want to consider specialized content for social channels such as Pinterest, YouTube and Facebook. Or you may also want to prepare downloadable content such as a whitepaper or short eBooks for these events.
4. Assign who's responsible for the content. Identify writers and editors who are ideal for producing the content. This will let you handle the editorial process much more efficiently. Ensuring all relevant content will be delivered on time.
5. Integrate your content calendar with your editorial style guide. Your calendar can hold other important details other than dates. Your editors and content creators can use it as guide for keeping the overall tone and voice of your content marketing strategy consistent.
By planning what content gets created when, you'll also be focusing on what your audience needs in the long term: relevant and shareable content. It's the same ingredient found in marketing success recipes. Create one now and take your marketing to the next level.
Make getting started with your editorial calendar easy by downloading this free Promotional Calendar Thought Starter.