Effective marketing is an art and a science. With so many different venues to get your message out, it is crucial that you spend your marketing dollars wisely. This blog post follows Marketing Pitfalls, and highlights more marketing pitfalls and just like those spring potholes... steer clear of these pitfalls...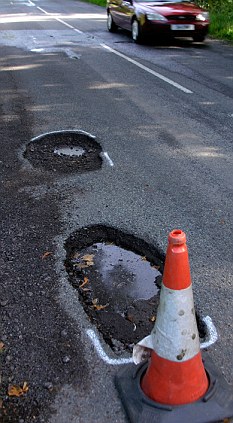 1. Using a website developer that uses aggregate content
Your company website is one of your most important assets. Done right, it will be found by a wide spectrum of prospective and current customer alike, and, it will make your business shine, giving prospects and customers the information they need to do business with you, and also tell others about you.
Creating and maintaining an amazing site requires unique content written specifically for YOU. Many companies offer to simplify your website creation process by providing turn key templates, including pre-written text. I see this very commonly in the health sector – websites designed for dentists, physiotherapists, vets etc. These providers tell you they know your industry and have realized success in your industry in other markets. While their offer to serve you up pre written content may help you to turn on a live site pronto, you can and should do much better than this. Your business deserves better than generic content and worse yet, Google doesn't like duplicate content and your site will not rank as well in Google if you use this approach for a website development.
Investing in unique content is always worth the time and money. Take the time to understand who your target audience is and speak to them in your own words, they'll appreciate it and you'll appreciate the higher search rankings by staying away from duplicate content.
3. Focusing on the wrong social media matrix
Social media success isn't defined by the number of LIKEs you have on Facebook, or the number of followers on Twitter. Effective social media marketing is about using social media to grow your business. You need to get beyond LIKEs and start creating LEADs. It's easy to create BUZZ with social media, but the magic happens in the next step – moving prospects down the funnel and converting them to leads and then customers. Getting from LIKEs to LEADs requires a strategy that helps move people through the sales cycle with effective call to actions, landing pages, conversion forms and more.
Consider downloading, Download The Social Media Tune-UP: 3 Step Process to Effective Social Media Accounts. Enhancing your social media presence will be as easy as 1-2-3 with this free guide.
3. Not setting benchmarks or reviewing your results
John Wannamaker, a rather famous businessperson from the 1800s used to say, "Half the money I spend on advertising is wasted; the trouble is, I don't know which half."
Are your marketing efforts still back in the 1800s? Technology has made tracking marketing efforts so much easier. If you don't have Google Analytics or another web site tracking tool, get it on your website right away. Google Analytics is a free tool and it can provide you with tremendous marketing insights. Make sure you are gathering marketing data at every possible point and take the time to analyze the results. After all, you can't improve what you don't measure.
4. Not defining or poorly defined target audience
Do you know who your target audience is? Do you know him or her so well that you have a clear picture of her, do you know demographic and physiographic details? This great blog article by Hubspot provides details on how to incorporate physiographic into your marketing http://blog.hubspot.com/insiders/marketing-psychographics Getting clear on your customer will greatly increase the effectiveness of your marketing efforts.
5. Caught in old marketing practices that are eating up your resources?
Marketing is changing and evolving. Some tactics like networking and the value of positive customer feedback have stood the test of time and will always be a part of effective marketing in one form or another. But some practices should be retired. Maybe it's a social network that you jumped on sometime ago, but now with your well defined target audience you know your customers aren't even on that platform. Perhaps you're churning out meaningless reports just because somebody is used to getting a certain report the old fashion way every Tuesday. Take the time to review your marketing efforts and ask yourself if each of them are making a difference or are some just being done because that's the way you're used to doing it?
Why not download a copy of our free ebook, 10 Useless Things to Cut From Your Marketing and see what time you could free up for marketing tactics that could positively affect the bottom line.
Have you been caught by a marketing pitfall? Share your experience below in the comments section.