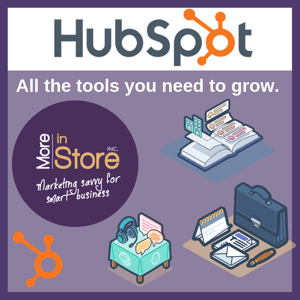 One challenge faced by many startups is reaching the right audience, either as a brand-new company or as a start-up ready to scale. In a highly-competitive landscape, it can be difficult to gain traction and get the attention needed without being tempted to resort to cold calling and other often frustrating outbound marketing practices. In contrast – when done right – inbound marketing can appeal specifically to an ideal audience. In its simplest form, inbound marketing helps lure potential customers and investors to a company's website – and keep them coming back. A software, such as HubSpot can help startups create and manage their inbound marketing efficiently, saving them time and money!
What is HubSpot?
HubSpot is an inbound marketing and sales software that helps companies attract visitors, convert leads, and close customers. It takes traditional marketing and takes control by optimizing your content for search engines and social media, as well as attracting prospects through innovative landing pages, calls to action, personalized email marketing campaigns, and so much more. HubSpot also gives companies the analytics and resources they need to make sure their inbound marketing efforts are working.
HubSpot for Startups
Over 6500 startups are using and succeeding thanks to HubSpot for Startups, and because they truly believe in their product – and in its power to help startups, qualifying startups receive up to 90% off Hubspot for Startups for the first full year and the discount continues with 50% off for the second year and 30% off for the third year!
It has quickly become a leading inbound marketing software for startups because Hubspot not only provides startups with their marketing, sales, and CRM software, but also offers education and support.
What does Hubspot for Startups do?
Hubspot is the technology that powers Inbound Marketing, while Hubspot cut its teeth in the Inbound Marketing space, the tool now is so much more.
Hubspot for Startups is designed to jumpstart a startup's inbound marketing as well as organize and analyze sales funnels, create innovative landing pages, automate email marketing, and so much more. It's designed to let busy startups see their inbound marketing and sales efforts with a clear-eyed perspective. You'll discover where your inbound opportunities are hiding out and get in control of where you should be focusing your marketing and content efforts.
Hubspot is the technology that powers Inbound Marketing, while Hubspot cut its teeth in the Inbound Marketing space, the tool now is so much more.
Startups know the value of timely growth and by saving on the right software to do the job you can focus on the strategy and plan to create marketing and sales that customers embrace. That is where I come in, I have experiences working with start ups and helping customers putting the power of Hubspot to work for them with the right strategy and tactics.
I'd love to tell you more about how Hubspot for Stat-ups has fuelled growth for my clients, click to learn more.