Internet and inbound marketing is a constant battle as it is, trying to make sure current and updated content makes it onto sites, social media and other important venues. Not only does it take time to generate these current materials, but it also takes time to learn the social media tools to take advantage of social media and Internet marketing. The problem is, however, that social media is always evolving and changing. Social media giants like Twitter, Facebook and LinkedIn are constantly changing and improving features on their websites. It makes it exhausting for a marketer to keep up on!
Recently, we published a social media cover cheat sheet as a downloadable resource on our website at More In Store. Less than two weeks have gone by, and there has already been a major change in the way that a social media giant is using cover photos. Now, not only did we think we were up to date and on top of the changes, we figured that this download would prove to be resourceful and current for at least more than a couple weeks. Wrong!
Twitter is at it again! A major web profile layout redesign for members' profiles is afoot. With this change, they're also introducing (as quoted from Twitter's blog post):
Best Tweets: Tweets that have received more engagement will appear slightly larger, so your best content is easy to find.
Pinned Tweet: Pin one of your Tweets to the top of your page, so it's easy for your followers to see what you're all about.
Filtered Tweets: Now you can choose which timeline to view when checking out other profiles. Select from these options: Tweets, Tweets with photos/videos, or Tweets and replies.
With these changes, Twitter is anticipating members will have it "…even easier (and, we think, more fun) to express yourself through a new and improved web profile." People who register on Twitter for a new account will be automatically introduced to the new profile layout, and existing members will slowly begin to see their profiles changed over in the coming weeks.
This new profile layout will also boast a larger cover image, which meant our new resource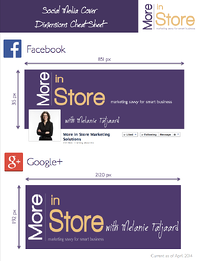 "2014 Social Media Cover Cheat Sheet" resource is now outdated. Worry not, though! We have created an updated version that is ready for you to download immediately.
Click the button below to be taken to the updated 2014 Social Media Cover Cheat Sheet download! There you will find cover photo dimensions for Twitter, but also you'll find dimensions for Facebook, LinkedIn and Google+ too!
We hope you enjoy the new changes to Twitter and with help from this document, create great and effective cover photos for your new profile.
Want some help? Don't want to take on this by yourself? Contact us, and we'll be glad to help you get started with Twitter and their new user profiles. Click below!