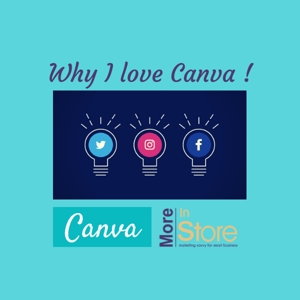 Social media has become a very visual marketing tool. According to Hubspot, 80% of marketers are using visual assets in their social media marketing. This means marketers have to produce graphics that are not only eye-catching and relevant, but also on brand. They also have to ensure these images are optimized for each specific social network. Graphic design can be a time-consuming and overwhelming endeavor, but thankfully online graphic design programs, such as Canva can help designers and non-designers alike easily produce attractive graphics for both web and print media.
Canva has a free version that allows marketers to use their simple drag and drop editor as well as create two folders to organize designs, have access to thousands of templates, get 1GB of storage for photos and assets, as well as access to photos starting at $1 each. The free version of Canva is a great starting point for marketers wanting to ensure the tool is right for them.
Once you start using Canva, you will quickly find yourself wanting to upgrade to Canva for Work – the paid version of Canva. Starting at $12.95 per month, the paid version of Canva is ideal to not only collaborate with team members, but also to keep your graphics organized either by client or brand.
Canva for Work sets a team up for success by offering unlimited folders for designs, so you can separate images for specific campaigns, as well as offering the ability to upload custom fonts for your brand, save logos, set colour palettes and save templates accessible by everyone on a team. This enables everyone on a team to create graphics with a consistent look and feel.
One of my favourite features of Canva for Work is the ability to resize designs into set dimensions based on a social network i.e., Instagram, Facebook and Twitter at the click of a button, as well as resize graphics into custom dimensions. Canva for Work takes the excuses out of not having a well optimized and good looking social profile and marketing!
If you are looking to improve your social presence, contact More in Store to review your marketing techniques and to gives you a broad-based analysis. We have set up Canva for Work accounts for several clients, including uploading logos, setting up folders, creating samples, and setting brand colours and fonts. More in Store can provide you with the insight to improve your online marketing to keep your brand at the top of customer opinion and drive forward the sales and engagement you require to ensure continued success in business.
Get started by downloading the More in Store social media sizing cheat sheet today!