While this statement rang true for me, it also scares me just a little bit. And if Hubspot is a little like going to the gym, as my Hubspot Academy instructor, Isaac Moche told me at Inbound last month, then Inbound (the Inbound Marketing Conference put on by Hubspot) was our New Year's Day.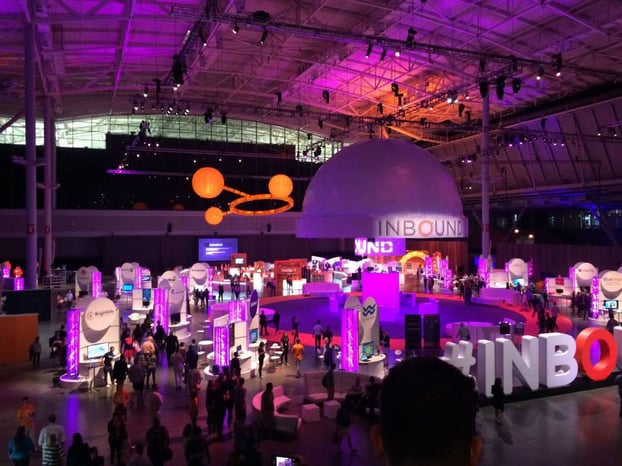 Hubspot can do wonders for your marketing as the gym can do for your body – but only if you use it regularly. Following this analogy, Inbound is like January at the gym. Inbound is the largest marketing conference on the planet, with more than 14,000 people attending. Inbound felt like a crowded gym in January, with some learning sessions filling up 30 minutes before they started.
Of the 14,000 attendees, I wonder how many will be motivated to stick with Hubspot after the sessions notes are buried in files and the regular daily to-do list commands these marketers' attention.
I've blogged about it before – the most effective Marketing isn't always sexy. The biggest downfall of many entrepreneurs -- and even some marketers -- is to move on before the marketing has had a chance to do its work or they change up marketing too quickly because they are tired of it. It doesn't matter if you are tired of your marketing - what matters is if your marketing is effective with your clients and prospects.
Steven Pressfield captured it well in his short and poignant book, Do the Work. The value in marketing is often found by carrying on – blogging, sending the newsletters, creating the right content, and giving prospects what they need as they move through the decision making process.
Hubspot is powerful software that enables you to create, track, and evaluate Inbound Marketing from a lead's first interaction with your site until they convert to a customer.
But Hubspot is just the software. Its effectiveness is tied to the Inbound Strategy, plan, execution, and follow-through. Hubspot is the gym equipment, if you like. Seeing results requires daily attention. Hubspot's independent research claims Inbound Marketing has the most effective ROI. But Hubspot also tells you that realizing positive ROI and seeing the leads roll in requires about 10 hours a week of dedicated work. Sounds sort of like a good amount of time to dedicated to the gym too.
The good news is, unlike going to the gym, you can outsource your marketing if doing it in house just isn't working. Maybe it's time we chat.