Take a look at your website. How many pages do your potential customers need to click through before they find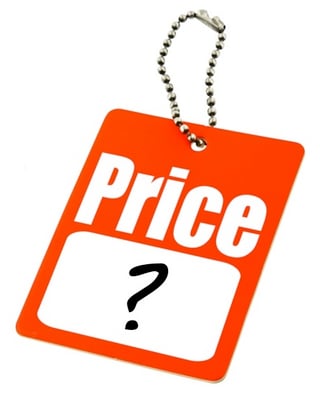 out how much you charge for what you do?
There's no right answer to this question - there's a valid argument for putting pricing information in various places on a website. However, if the answer is that the customer cannot find any pricing information at all, there may be a problem.
There's nothing more frustrating than searching for a price. Everyone's found themselves clicking through FAQs and 'About Us' pages hunting for some mention of cost. Everyone remembers giving up when the information remains elusive after a few clicks too!
The unfortunate truth is that customers probably won't bother searching through a website if it's difficult for them to find out this crucial information. Why would they when there's always countless other sites that provide the same products or services alongside specific details?
People want answers when they're surfing the web. Even if they're just browsing or following an enticing social media ad, they'll never consider using your services if they don't have at least a ballpark figure attached to you in their heads.
Here are some strategies for presenting your pricing information. Every business and every site is different, so these might not be right for you, but they represent a few simple and effective options.
Price on the Home Page
This might seem a bit upfront, but for some businesses this is ideal. How many websites that you use regularly have their prices in huge type and garish colours on their homepage? It's not the right technique for everyone, but if low price is a part of your USP then you'd be missing a trick not to advertise this on your primary landing page.
If you know that you're on the lower end of the price spectrum for your product or service then this is a great strategy, but it also works if you're promoting honesty as part of your core values. Putting a price, even if it's a starting price, out there before the customer knows your company intimately makes you seem upfront and open.
Price on a Dedicated Page
For more complex services or multiple options it can be good to have a dedicated pricing page. PDFs of full price lists should be available, but there's nothing wrong with listing a handful of your most popular options to give a sense of your cost-range.
This can act as a menu of what you offer, which gives you an excellent opportunity to upsell by offering packages.
Price Behind a Form
This can be polarising, so it depends on your service. If everything you do is highly bespoke, then it's OK to require potential customers to fill in a simple form to get personalised pricing estimates or an analysis of what you can do for them. Also: an email list is a mighty advertising weapon, so this option can have multiple upsides.
Having said this, some casual browsers would rather not have direct contact with a human representative before they know if they're able to afford services or not, so it's still a good idea to give some sense of scale with a 'starting from' price list.
There are as many web marketing solutions as there are businesses, so the right answer for your site may be a combination of these or something completely different. The important thing is that you think about what your customers want from you and you deliever on that. If you are ready to take your marketing to the next level, connect with me.