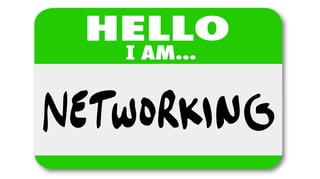 Ask any business coach how to grow your business and they ultimately preach about the many benefits of networking. These meetings can build valuable relationships that can help you stay connected to your community and other business leaders.
Networking can provide your business with a steady stream of leads - if you know how to do it properly. Networking can also be a huge time waster. Here's what those business coaches don't tell you about networking:
* You see the same people: Many coaches will tell you to join as many networking groups as possible. This doesn't always give you the exposure you want. You will start to see the same people over and and over again. If these people aren't right for your business, you will be wasting your time. Always keep your target market in mind and find people who are interested in your business, product or service.
* Networking takes time: All of those breakfast, lunch and dinner meetings may be tasty, but you will have to eat out on a regular basis for at least a few months. Don't expect a business deal after meeting someone for the first time, even if you think they will benefit from your product or service. Networking is all about building relationships, and people will have to get to know and trust you before they will purchase from you.
* You will be expected to reciprocate: If someone buys a product or service from you, there will be an 'unsaid' expectation to reciprocate the deal. You may not want what they have to offer, and that can strain the networking relationship.
* Pressure to deliver leads: Some groups pressure members to provide other members with leads. While giving leads to others in your group can be incredibly valuable, there are times when you have to say you just don't know anyone who would benefit from what they have to offer. This can cause friction between you and the others in the group.
Like all like all approaches to sales marketing, the key to success is knowing your target market and presenting your business in a way that helps others understand how you can help them. Is networking really generating leads and sales? Look back at your recent deals and think about the source.
Even if networking is working, chances are your connections are still going to google you tomorrow. I can't stress enough the importance of polishing your online profile. Check out these great marketing resources to polish your online marketing presence.
As you set out to grow your business—exploring every opportunity isn't the best approach. You have to be laser focused and learn the art of saying no so you free yourself up to say to the right fit. I am selective about networking functions – I find they don't bring me the leads. Don't get me wrong, it is extremely valuable to get out in the community and connect with other leaders and support worthy causes, but then recognize it for what it is. I know if I am selling online it is far more valuable for me to spend time on SEO, blogging or a newsletter that "networking".
So whether or not you are going to that next business after hours, I'd recommend that you polish up your LinkedIn page before heading out and get clear on your ideal customers as well as thinking about if they'll be attending that event.
Loving LinkedIn -- A guide to creating an Effective Profile